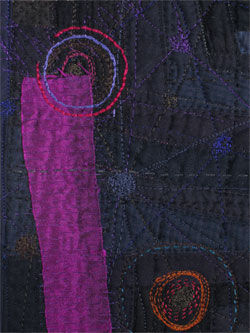 All text and images are copyright © Karen Thiessen 2010. Please do not use images or text from this site without prior permission. Thank you for your interest in my work. Many of the artworks on this site are available for exhibition and/or for sale. Please email me if you have any questions about availability and the current price list.
Contact
You may contact Karen at:

Day In & Day Out is Karen's blog about art, creativity, design, and life.
Or, for more inspiration, visit the sites of some friends that Karen especially likes:
Keri Smith
Kaliyana
Andrea Vander Kooij
Bookhou
Sabrina Ward Harrison
Denyse Schmidt
Ella Doran
Sharon Elphick
Judy Martin
Cambridge Galleries
Carnegie Gallery
David Kaye Gallery
Textile Museum of Canada
Transit Gallery